All of these fine art prints are produced by the artist in his studio with meticulous attention to detail. They are reproduced on high quality mould made papers and canvas. The resin based, pigment inks are applied in heavy concentrations to give the art an unusually rich and vibrantly colored surface. The surface is treated with enhancing, UV protective finishes for added longevity, rated archival for 100+ years.
To purchase limited edition pieces please email your request . We will send you a secure online invoice for payment. Posters and Canvas wraps can be purchased directly here
Catalogue under construction. Please check back for more.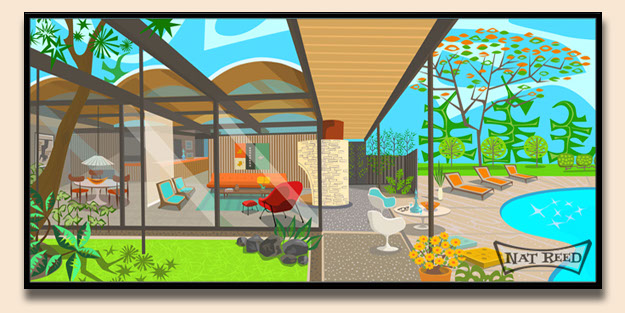 "#20B, The Saul Bass House"
52" x 24" Canvas edition framed (Sold Out)
58" x 33" Larger Version Available, $1,600



"Sepulveda Bowl"
56" x 19", Canvas edition framed, $760



"American Meditations #3"
53" x 19", Canvas edition framed, $760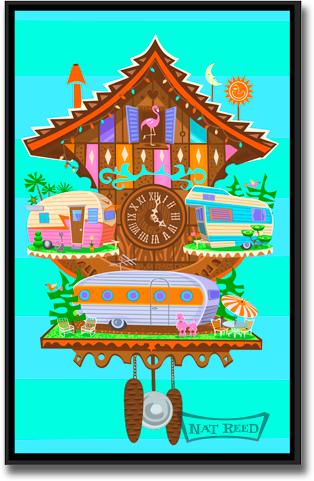 "Cuckoo For Caravans"
19" x 32", Canvas edition framed, $625



"Australia Modern"
56" x 18", Canvas edition framed, $760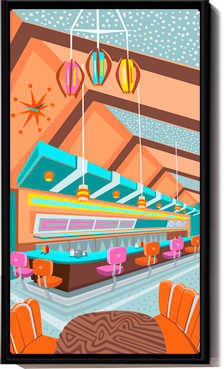 "Diner Interior Study"
17"x 31", Canvas edition framed (SOLD OUT)
27" x 48" Larger Canvas Available $1,100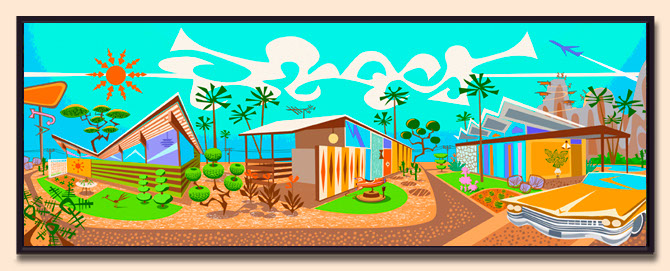 "American Meditations #4"
53" x 20", Canvas edition framed, $760

72" x 20" Larger Version Available $1,150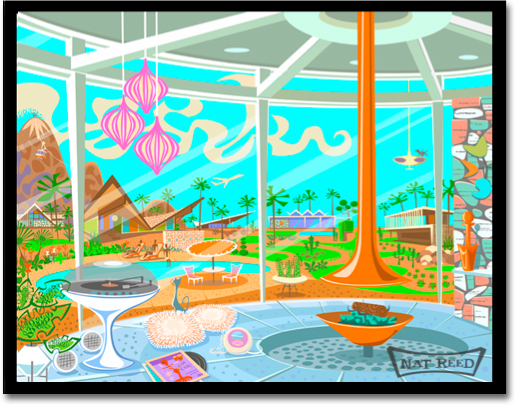 "Rumpus Room With A View"
36" x 28",Canvas edition framed (SOLD OUT)

44" x 38",Canvas edition framed, $1,700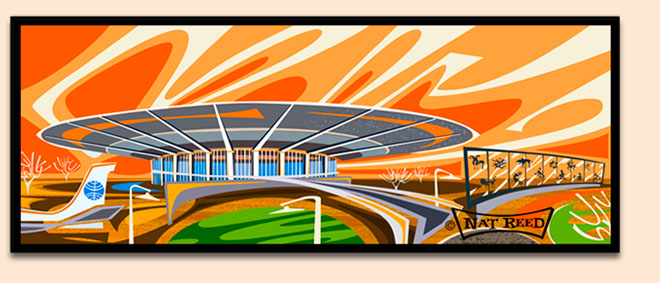 "Pan American"
52" x 20", Canvas edition framed, (Sold Out)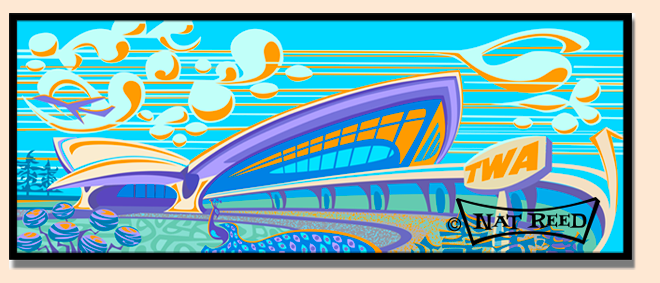 "Euclid Rococo"
52" x 20", Canvas edition framed, $760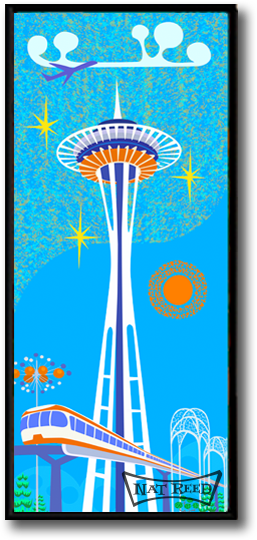 "Expo!"
12.5" x 28.5", Canvas edition framed, $535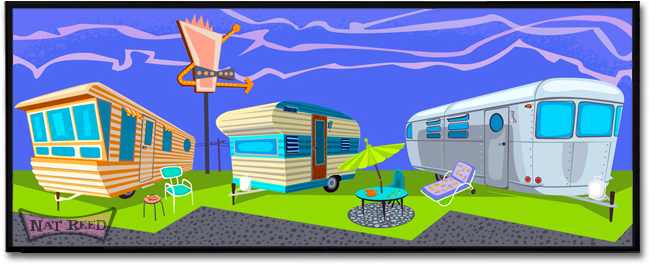 "American Meditations #1"
54" x 20", Canvas edition framed, $760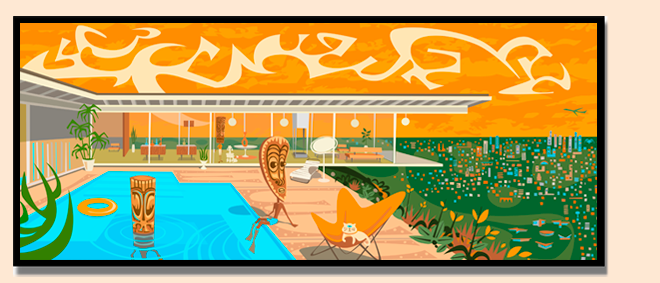 "92,960,000 Miles To Go, And It Had Felt Close"
47" x 20", Canvas edition framed (SOLD OUT)




"Casita"
47" x 20", Canvas edition framed, $760




"The Bachelor"
57" x 20", Canvas edition framed (SOLD OUT)

Limited Number of Large Canvas in Gallery Only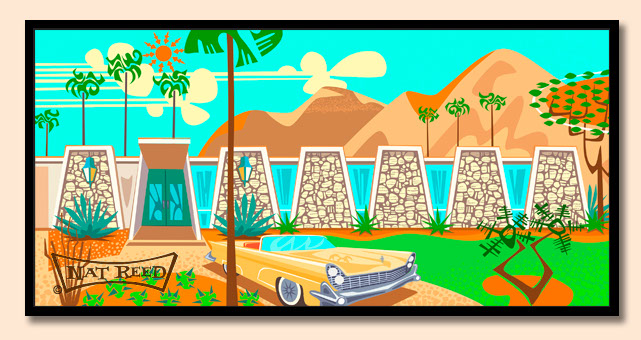 "Levitt Schwartz House"
38" x 19.5", Canvas edition framed, $735



Miracle Mile"
56" x 19", Canvas edition framed (Sold Out)

Paper Version Avaiable in Gallery Only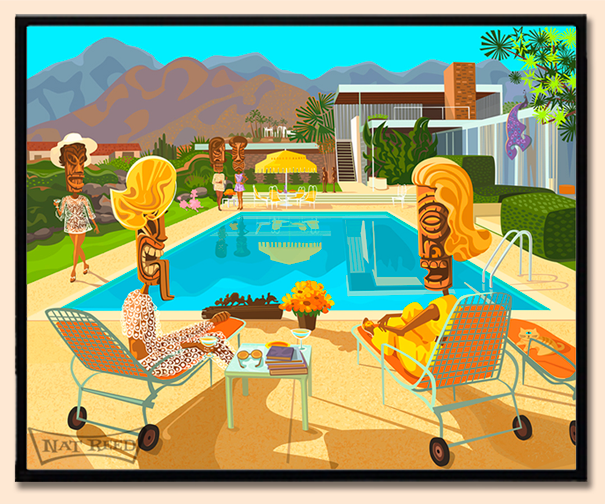 "Thiasus Of The Atom Mull It Over By A Pond"
47" x 38", Canvas edition framed (SOLD OUT)
37.75" x 31.75" Medium Version Available $850


"Anaheim"
56" x 19", Canvas edition framed, $760



"Easter Island Island Resort"
72" x 18.5", Canvas edition framed, $1,150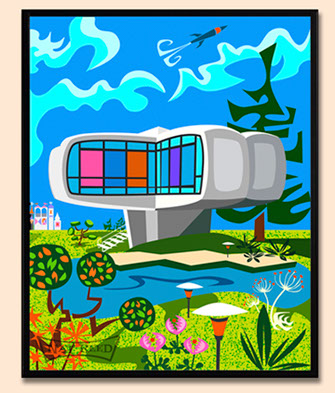 "Utopian II"
19" x 24", Canvas edition framed, $535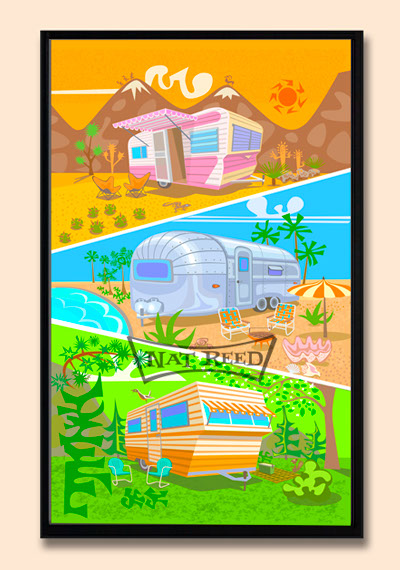 "Travelogue"
16.5" x 30", Canvas edition framed, $535


"Desert Modern Tree House"
15.5" x 28"w, Canvas edition framed, $535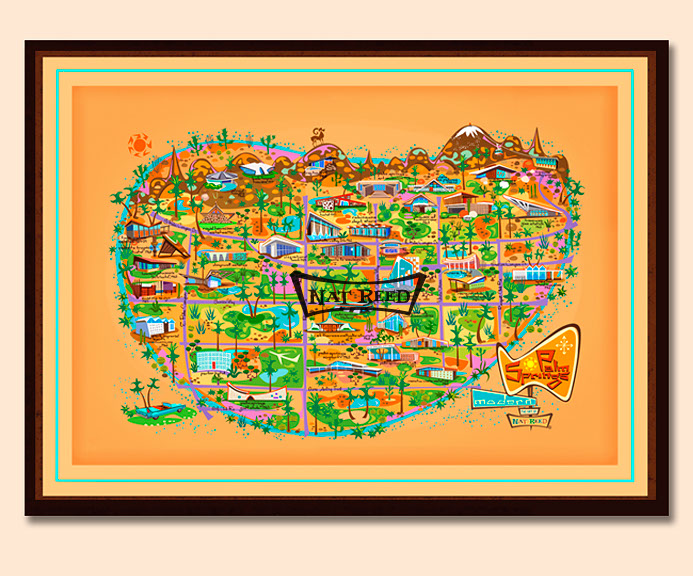 "Palm Springs Modern Map"
47" x 30", Canvas edition framed, $1,200
"In Person" Gallery Special Offer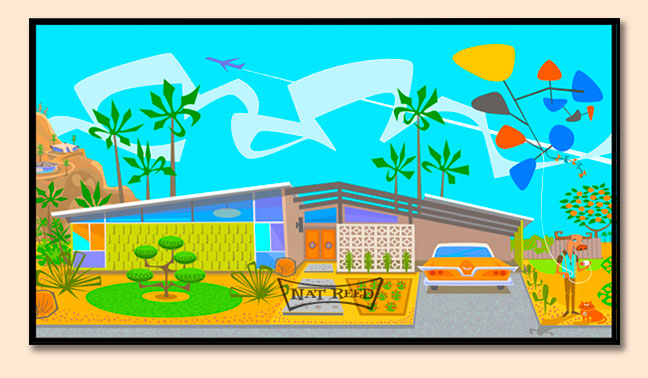 "Upwardly Mobile"
44.5" x 24.75", Canvas edition framed (Sold Out)

50.25" x 34" Larger Version Available $1,350

"Fontainebleau II"
53" x 19", Canvas edition framed, $760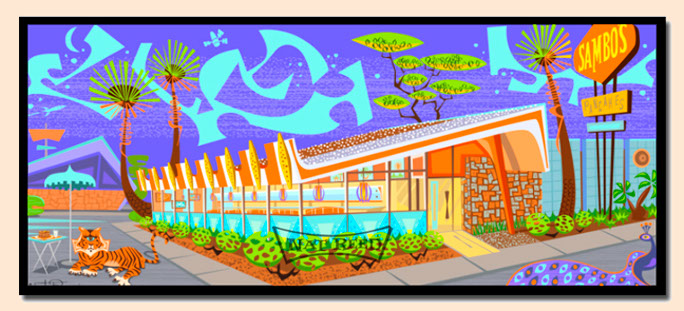 "Put A Tiger In Your Tummy"
45" x 19", Canvas edition framed, $760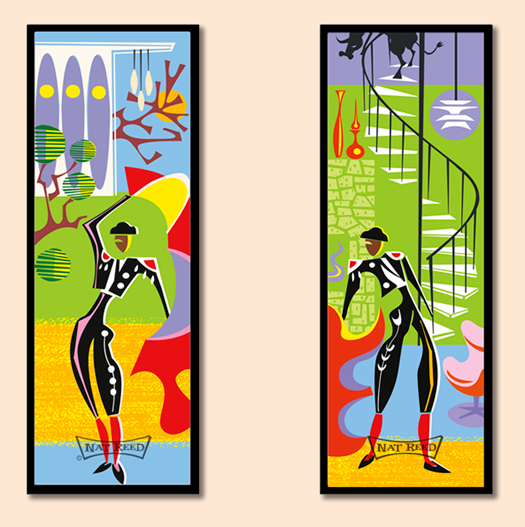 _

"Bolero I"
13.5" x 39",
Canvas edition framed, $575
_

"Bolero II"
13.5" x 39",
Canvas edition framed, $575

"Weaver Drover"
57.5" x 18", Canvas edition framed, $760

72" x 22" Larger Version Available $1,150

"Sentinels"
52" x 18", Canvas edition framed, $760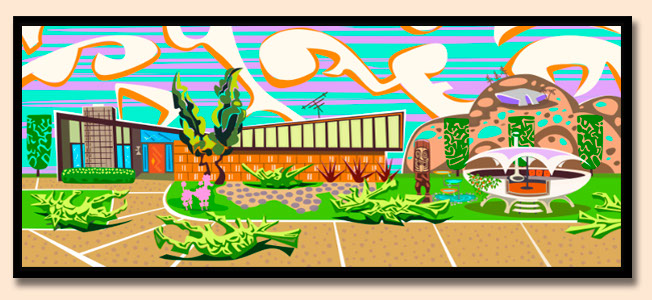 "Gazebo"
46" x 19", Canvas edition framed, $760

"Torodoodle Redux, No Bull"
13.5" x 39.5", Canvas edition framed, $680